Indian gambler loses wife in cricket betting
30-05-2016
A drowning man will clutch at a straw, with the same applying for gamblers who are short of money. Meet Ravindra Singh, an ordinary man from India who loves to bet on cricket matches. However, the youngster from Kanpur has made a nuisance of himself after
gambling away his wife
.
Spouse as stake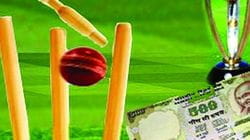 Singh was placing bets on
Indian Premier League (IPL)
games when he exhausted his gambling budget. Instead of calling it a night, the Indian bettor used his spouse as leverage for yet another wager on a cricket match. The
risky gamble
didn't pay off and Singh lost his wife, Jasmeet Kaur, thanks to the losing bet.
Alarming discovery
Police launched an investigation after Kaur had informed civil rights activists about the incident. In the meantime, Singh disappeared like a coward after gambling away his spouse. The couple tied the knot in 2011, but she wasn't aware of his
betting problem
at the time of their marriage. Kaur soon discovered her husband's gambling obsession as he blew away her cash and valuables.