Glasgow Rangers midfielder allegedly bet on Celtic defeat
20-09-2016
Bad boy Joey Barton has done it again: The Glasgow Rangers midfielder may be suspended again. The Glasgow Rangers midfielder allegedly
placed a bet on a Celtic game
, which is in contravention of the betting rules. Yesterday, Barton was suspended by his club because of a heated argument with Andy Halliday one week ago.
Bet on heavy defeat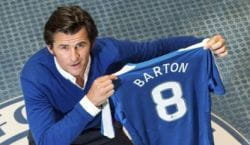 The Gambling Commission alleges that the 34-year-old wagered on the Champions League match between Celtic and Barcelona. Barton placed a considerable amount of money on an empathic Barcelona win, and with a 7 – 0 victory the Catalan club certainly didn't let him down. The
Scottish Football Association (SFA)
will suspend the
Glasgow Rangers
midfielder if the Gambling Commission determines that he breached the betting regulations.
No match-fixing allegations
Bookmakers informed the SFA about a wager on Barcelona to defeat Celtic by three goals or more. That suspicious bet was placed by Joey Barton, and the Gambling Commission launched a probe, at the request of the Scottish Football Association. The 34-year-old could be banned for one or two games due to the fact that there are no signs of Barton trying to
influence the outcome of the match
between Barcelona and Celtic.