Gambler faces prison after $7.5 million embezzlement
15-08-2016
A former treasurer at a Swiss watchmaker is facing 15 years in jail after pleading guilty to theft charges. Chew Siew Lang oversaw the overall financial activity of Chopard, but she misused her position to
embezzle large sums of money to support a gambling problem
.
Hooked on sports betting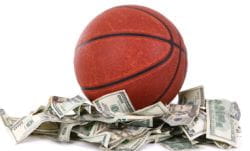 Lang fleeced the company by forging checks with a
total value of about $7.5 million
between 2006 and 2012. The gambling addict used erasable ink to create fake checks, according to court records. Lang has a weak spot for
sports betting
and she visited one specific bookmaker on a very regular basis. She was able to make colossal wagers thanks to the money she had stolen from her bosses.
Gambling addiction due to psychiatric disorder
In addition to sports betting, Lang spent large amounts on lottery games, which she played at Singapore Pools outlets. The ex-
Chopard
accounting manager used the forged checks to buy tickets. Her lawyer claimed that his client suffers from a psychiatric disorder, which was the reason behind her
out-of-control betting habit
. The judge in question suspended the case as he voiced doubts about the relationship between the embezzlement and Lang's psychiatric condition.