Thai police agent caught playing illegal poker game
29-06-2015
A Thai policeman was enjoying an illegal game of poker when his colleagues barged into the residence. Phang Nga authorities decided to raid the residence after receiving information about the
black-market gambling activities
. Police arrested thirteen suspects, including lieutenant Pairat Jindawong.
Nuisance from illegal gambling stash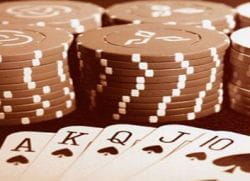 Residents had complained about the nuisance from the premises that is located close to the Ket-Ho Police station. Visitors of the
underground gambling den
violated parking regulations, causing traffic nuisance in the area. Additionally, residents complained about groups of people who were hanging around near the premises.
Successful police raid
Police officers breached the door of the house and made sure nobody could get away. Thirteen gamblers were playing a
poker variant called 'Kao Ke'
. Pairat Jindawong was one of the gamblers, according to a spokesperson for the Phang Nga Police. Sunisa Jongthong is believed to be the brains behind the illegal gambling den. Police officers recovered a sum of 40,495 baht, plus multiple gambling-related items.