Prison sentence for poker scammer from Singapore
07-10-2015
A poker cheater from Singapore is facing a one-year prison sentence. Meet Chua Lai Huat, who teamed up with three dealers at the Resorts World Sentosa casino. The 66-year-old 'won'
nearly $13,000 in less than four weeks
thanks to the scam. Huat still needs to repay every penny of the stolen money.
Partners in crime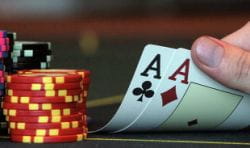 The cheating occurred at the
three card poker
tables inside the Resorts World Sentosa casino. Huat cooperated with Zhang Zhijiu and Choo Hui Yong, who were employed as poker croupiers.40-year-old Zhijiu is facing an eight-month jail term, while Yong has been sentenced to four months behind bars. The scam also included a third casino croupier, Sun Shihong, but he remains at large.
Desperate for money
Authorities believe that Huat was the brains behind the
fraud scheme
. The dealers showed the deck's last card to the 66-year-old poker player, and thus giving him a considerable advantage. Huat promised the three croupiers a 20% share of the day's proceeds. The Singaporean national was unemployed, which made him decide to tap into new resources.