Poker players robbed at home by armed criminals
02-06-2016
A couple of friends in the city of Boulder (Colorado) have been left terrified after a violent incident. The men were playing poker when two masked robbers caught them by surprise. The criminal duo
dashed into the home and stole $3,500 in cash
.
Armed robbery at home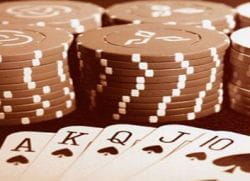 David Bayless had invited some friends to enjoy a game of poker at his home. At approximately 11 PM, two masked individuals burst into the premises. One of them was armed, while his partner in crime carried a wooden cane. The criminals demanded the
poker players
to put their hands up, after which they were able to cart away the prize pool of $3,500.
Poker game postponed
The violent incident was recorded on the property's CCTV cameras. One of the poker friends, David Bayless, noted that he was angry about the fact that the robbery occurred at his premises. "It's really shocking if
criminals burst into your home and rob you
", Bayless commented. Due to the traumatic event, the friends have cancelled their weekly poker night for the time being.