Poker as bucket list experience for World War II veteran
17-06-2016
They say 'you're never too old to learn', a lesson which Norman Spivock takes note of. The World War II veteran is one of the competitors of the
$1,000 buy-in Seniors No-limit Hold'em Championship
. This year's World Series of Poker event kicks off at the Rio All-Suites Hotel & Casino today.
Not another face in the crowd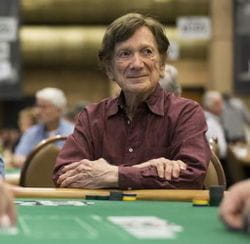 Spivock is without a doubt a
poker fan with a colorful personality
. The 92-year-old has faced lots of challenges, including:
Polo lessons when he was 62
Learning Chinese
Living as a hippie
The multi-faceted senior enjoys both poker and skiing, while he earned a living as an entrepreneur and writer.
Poker for seniors
Only poker fans aged at least 50 years are eligible to join the poker tournament at the
Rio All-Suites Hotel & Casino
in Las Vegas today. In 2015, nearly 4,200 players participated in the event. Additionally, the event for competitors aged at least 65 years kicks off Sunday.
$8,000 in poker winnings
Spivock is anything but another face in the crowd. It was a televised poker event that sparked his interest five years ago. Since 2013, the golden ager has participated in multiple World Series of Poker events. His skills have earned him nearly $8,000 in cash, although he also
lost $3,500 whilst playing poker
.