Female poker operation busted in Vietnam
17-02-2016
Sixteen women have been arrested after playing card games at a location in Binh Duong (Vietnam). Police believe that the women had been running an
illegal gambling operation
since the start of this month. The group includes Korean and Cambodian citizens, read a statement from the police.
Caught red-handed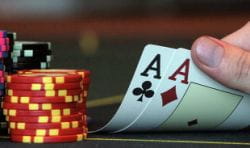 One of the suspects is 52-year-old Thi Thu Hong, who allegedly was the brains behind the
black-market gambling operation
. The other fifteen women were enjoying a poker session when police officers barged into the apartment. A spokesperson for the police confirmed that the raid occurred at a Di An Town-based building.
Female high rollers
Police officers recovered a sum of $4,500, in addition to multiple gambling-related items. In the meantime, Hong has come clean. The 52-year-old woman claimed that she had run the
underground gambling den
since the second week of February. All poker players were high rollers as they tend to wager considerable sums of money.