75-year-old poker fan cashes $550K at Mashantucket casino
06-10-2016
The Foxwoods Rainmaker Casino has
paid out a staggering $549,950 in cash
to a poker fan. Francis Soule was enjoying his favorite card game when he struck oil. The 75-year-old Vietnam veteran benefitted from a royal flush, netting him an eye-watering bonanza.
Shocked by massive poker win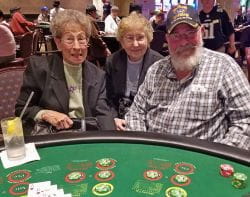 A spokesperson for the casino noted that Soule's payout is among the biggest ever at the Mashantucket-based gambling resort. The Springfield resident was playing the
crazy 4 poker game
when he
scored a royal flush
. "I was a little numb at the beginning", he told after claiming his winnings worth $549,950. Soule plans to speak to a financial adviser and currently does not have any plans for his newfound wealth.
Poker veteran born under a lucky star
Soule considers himself a fortunate man after his
triple bypass surgery
in 2004, while he also struggled with a defective defibrillator. He loves to play poker at the Foxwoods Rainmaker Casino, and both his spouse and her sister join him on a regular basis. The 75-year-old gambling enthusiast is
every inch a poker fan
as he plays the popular card game for more than five decades.