Winning online gambler on his way to Bora Bora
19-08-2016
Some gamblers have no immediate plans for their winnings, but that's certainly not the case with Bill Laharty. The 52-year-old has
bagged a stunning $21 million in cash
courtesy of a Lotto 6/49 ticket. A spokesperson for Lottery Canada revealed that Laharty's win is the largest online cash prize ever won in the North-American country.
Extravagant plans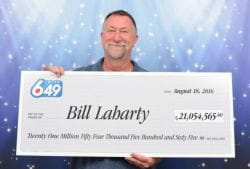 The 52-year-old Nanaimo resident has never been short on cash as he recently kicked off his eternal vacation. Laharty already has a few ideas of how the money will change his life. Among his plans are a new apartment house, a larger boat, alongside a trip to Bora Bora. Additionally, the
Canadian lotto winner
will use the jackpot to splash out on an exclusive
BMW
, which he also plans to buy for his favorite buddy.
Good Samaritan
He stated that he could not believe it and was still in shock given the large size of the payout. "It's such a surreal experience when you discover a
jackpot win of this magnitude
", Laharty said. The Canadian lotto player will also share his newfound wealth with his relatives and friends who can really use some financial support. He purchased the
winning Lotto 6/49 ticket
online, which shows how rewarding internet gambling can be.