Three-year-old Kiwi scoops $1 million payout
30-09-2016
It goes without saying that minors aren't allowed to gamble, but that didn't stop a three-year-old from
landing a $1 million jackpot
. His parents created a Bonus Bonds account for their newborn baby, which turned out to be a good decision. Their son has become an instant millionaire at the age of three thanks to his Bonus Bonds.
Christmas baby brings good luck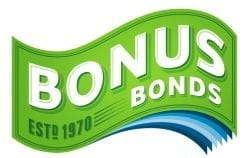 The Christchurch-based family discovered the
life-changing win
when they arrived home after their vacation. Needless to say that they are ecstatic for winning a jackpot of this magnitude. "We were absolutely speechless when we found out that our son's Bonus Bonds hit a
$1 million bonanza
", the New Zealand father said. Their Christmas baby seems to be born lucky considering the dazzling win.
Monthly $1 million prize
About one million New Zealanders, affectionately known as 'Kiwis', have bought Bonus Bonds, which are a
mix of investing and lottery gambling
. The chances of winning increase as people own more Bonus Bonds, with a $1 million top prize available every month. Participants never lose their money, but their investment doesn't increase in value either if they don't win a prize in the monthly draw.