Sutton EuroMillions winner has yet to claim £1 million prize
12-08-2013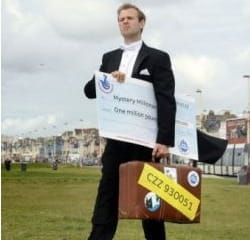 The EuroMillions lottery produced another millionaire last month, which seems nothing much. However, the lucky player in question has yet to claim the
£1 million jackpot
. For that reason, the National Lottery sent a butler to Sutton (south London) to spread the word about the loot.
Unwitting lottery winner
The
fortunate EuroMillions player
, who lives in the London Borough of Sutton, holds a ticket with the reference number BZV886683. A spokesperson for the National Lottery commented: "It's remarkable to think that a Sutton resident has yet to learn that he or she has won £1 million in cash."
Clock is ticking
Last Friday, an
EuroMillions butler
searched a marketplace for the winner. "We ask all participants of the EuroMillions lottery to verify their tickets. Check uncommon places to find your lottery ticket as it may reward a £1 million jackpot. Time is ticking away for the holder of the lucky ticket and we are excited to award the check," the spokesperson added.