Scratch card nets $10 million windfall
17-05-2016
The North Carolina Education Lottery has awarded a Rocky Mount resident with a dazzling jackpot that is sure to be a life altering event. The fortunate gambler in question, David Harris,
took home $10 million in cash courtesy of a winning scratch card.
More than $4 million after taxes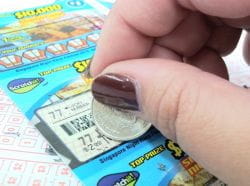 Harris decided to take the cash value of the annuity prize and will receive a one-time payment of $6 million. After taxes, he'll take home $4,155,009, read a statement from the North Carolina Education Lottery. The man from the city of Rocky Mount is considering buying his own truck, in addition to a
Hawaii holiday
.
Virtual scratch cards
The fortunate gambling enthusiast bought the
winning scratch card
at a retailer in Rocky Mount. It's unknown if Harris also enjoys online scratchers. An increasing number of gamblers decides to play their favorite game of chance on the internet.
Royal Panda
for example, offers four exciting online scratch card games:
Ace
Triple Wins
Lucky Double
7 Gold Scratch