Plane crash survivor scores $1 million lottery bonanza
10-08-2016
282 passengers and 18 cabin crew members miraculously survived flight EK521, which caught fire on the runway of Dubai's airport. Mohammad Basheer Abdul Khadar was one of the fortunate travelers, and Lady Luck remained on his side as the 62-year-old Indian national
scooped a dazzling $1 million lottery jackpot
.
Gratifying retirement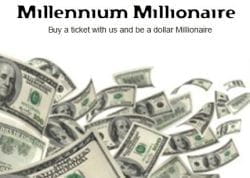 Khadar bought a ticket for the Duty Free Millennium Millionaire raffle when he was waiting for his
Emirates
flight to India at Dubai Airport. The Dubai expatriate has a weak spot games of chance, and he buys tickets on a regular basis. The 62-year-old will leave his job at the end of this year, and a
$1 million cash prize
certainly adds a rewarding twist to his retirement.
Charitable contribution
The fleet administrator considers both the lottery jackpot and the miraculous survival as a
gift from heaven above
. Khadar moved to Dubai in 1978, and he will return to his home country after retiring in December this year. In addition to spending more time with his family, the 62-year-old plans to
help less advantaged citizens
, especially children. Khadar will not share his newfound wealth with charitable foundations as he prefers to help people himself.