Online gambler hits $7.2 million slot jackpot
22-06-2016
The Mega Moolah online slot has spilled out another life-changing jackpot. Rawiri Pou attained the millionaire status after
scooping a stunning $7.2 million jackpot
. The New Zealand gambling enthusiast decided to continue playing the Mega Moolah slot after winning more than $1,000 in cash. That gamble definitely paid off!
No plans to quit his job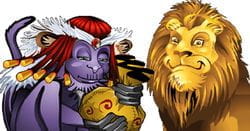 Pou, who is employed at a
Kentucky Fried Chicken
branch in Waikato, doesn't have any extravagant plans for his winnings, except to put the money in the bank. Additionally, the 27-year-old New Zealander aims to carry on working at the fast food restaurant in Matamata. The happy winner described the experience as 'surreal'.
Massive jackpot on first day
This latest
Mega Moolah win
comes only two weeks after Appie took home $121,660 in cash on the same online slot. The 21-year-old gambling enthusiast signed up with
Royal Panda
, and that same day he won the Major Jackpot. Appie bet only $3.75 on the African safari-themed slot game, which netted him a whopping $121,660 windfall.