Moorhead lotto duo claims $1.4 million winnings
16-05-2013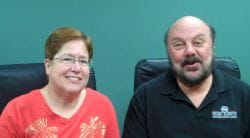 The Minnesota State Lottery has revealed that a couple from Moorhead has won
$1.4 million in cash
courtesy of the Gopher 5 game. This rewarding lotto game is exclusively available in the state of Minnesota.
Completely surprised
Paul and Joyce Echols are planning to continue working, and they will not move to another house. The couple buys Gopher 5 tickets on a regular basis. Paul however was completely surprised when he checked the winning Gopher 5 ticket. He informed his spouse, after which they collected the $1.4 million at the Minnesota State Lottery office.
Wonderful experience
He was unable to go back to work after learning about the
staggering lotto jackpot
. Paul headed to the Moorhead-based Orton's Food Mart to verify the ticket. The Echols noted that winning a cash prize of this magnitude is definitely a wonderful experience. A spokesperson for the Minnesota State Lottery unveiled that the store will benefit from a
$5,000 windfall
.