Instant millionaire thanks to Cash King scratcher
22-07-2016
The New York Lottery has found itself yet another big winner, as a Troy resident picked up a
staggering $1 million jackpot
. Meet Matthew Beidl, who has become an instant millionaire thanks to a winning $5 Cash King scratch card.
$1 million rather than $5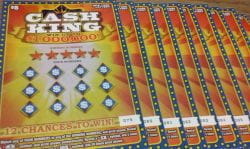 Beidl purchased the lucky entry at a Troy-based gas station, and he initially thought he had won $5 or $10. The 32-year-old gambling enthusiast realized that it was actually a
$1 million windfall
when the word 'jackpot' appeared. Beidl said he was 'shocked' and felt like he was going to pass out when he realized he hit the jackpot.
$34,000 a year
In the meantime, the Troy resident has received a ceremonial check for his
life-changing lottery jackpot
. Unlike most other winners, Beidl opted to get his payout in 20 annual installments worth $50,000. That means, after taxes the 32-year-old will receive $34,000 per year until 2035.
Wedding costs covered
He doesn't intend to hand in notice at work, Beidl told lottery officials. The fortunate gambler doesn't have any extravagant plans for his winnings, except to put the money in the bank. Additionally, the
winning scratch card
allows him to buy a home, and cover his wedding costs. It's unclear if Beidl also enjoys online scratchers, such as Ace, Triple Wins, Lucky Double, or 7 Gold Scratch.