German gambler evades prison thanks to one-armed bandit
26-09-2014
Some may remember the American television sitcom 'Saved by the Bell'. A German gambler has not been saved by the bell, but by a slot jackpot. The 37-year-old was about to get arrested, but he
evaded arrest thanks to his gambling winnings
.
Prison or fine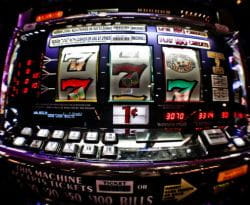 Two Bochum Police agents came across the gambler during a routine control. The German casino player had $910 in unpaid fines, and he faced a 71-day jail term. A spokesperson for the Bochum Police noted that the 37-year-old had previously resisted arrest. For that reason, he was given the option to pay the fine or spend
71 days behind bars
.
Saved by the jackpot
The German gambler was spinning the reels of a slot when the machine started blinking and bells started ringing. He was obviously excited to win a $1,000 jackpot, but the joy was short-lived. Police noticed the 37-year-old man and told him about the outstanding fine. The punter decided to use the
slot jackpot
to pay the fine, resulting in a new saying: 'saved by the jackpot'.