Gambler faces probation after strange jackpot incident
19-07-2016
A Mason City resident struck oil when he scooped a slot jackpot at the Diamond Jo Worth Casino. Strangely enough, Javier Castorena had another person collect the windfall. The 35-year-old casino player was handed a
five-year jail term
, suspended for three years, plus a $750 fine.
Uncommon behavior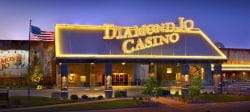 Castorena was spinning the reels of a slot machine at the Northwood-based gambling venue. Suddenly, Lady Luck was on his side and the
one-armed bandit spilled out a cool cash prize
. However, CCTV footage in the casino revealed how another person then took place at the slot machine after Castorena had left. Subsequently, the unidentified individual collected the winnings.
Slots paradise
Boyd Gaming Corporation is the company behind the Diamond Jo Worth Casino, which covers 38,700 square feet. There are many options to choose from, including:
The Diamond Jo Worth Casino also boasts two restaurants, an event center, and a bar.