Canadian gambler lands $207k lottery jackpot
05-09-2016
A Canadian gambler has no cause for Mondayitis after
scooping a $207,000 bonanza
in last weekend's Chase the Ace draw. Meet Mitchell Titterton from the province of Manitoba. He says he doesn't yet know how he'll spend his winnings. One thing's for sure: Titterton will continue to buy lottery tickets after landing the staggering jackpot.
Charity gambling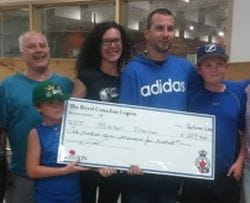 The Manitoba resident purchased a couple of Chase the Ace tickets, and
Lady Luck was on his side
this time. Titterton collected his fortune at the Royal Canadian Legion Branch 19 in the small town of The Pas. The Chase the Ace lottery has become a popular game among gamblers, and the draw takes place once a week. One fortunate participant wins a chunk of the proceeds from the ticket sales, while
most of the money flows to charitable organizations
.
$2.9 million jackpot
Players can win massive cash prizes as the jackpot continues to rise until there is a winner. Four months ago, a participant crammed her wallet with a dazzling
$2.9 million in cash
courtesy of the Chase the Ace lottery. Both the winner and the operators of the Chase the Ace lottery donated a considerable amount to organizations that provide support to victims of the Fort McMurray wildfires.