Canadian casino gambler leaves $7,000 fortune in taxi
20-10-2016
A woman from Canada has avoided a
$7,000 hangover
although Lady Luck was on her side at a Winnipeg-based gambling parlor. Melodie Ross went home after a successful gambling session, but she left her newfound wealth in a cab. Fortunately for her, honest people still exist.
Too much cash to return in person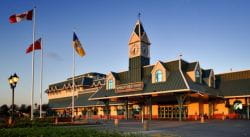 Taxi driver Gurpreet Gill was surprised when he found a wallet in his cab after his last ride. He was shocked after discovering that the
purse contained a huge amount of cash
. Gill also found Ross' ID-card, but he didn't return the wallet himself due to the large sum of money, and instead informed his employer.
Duffy's Taxi
then informed Ross, who was obviously very relieved.
Wise lesson from an honest cabdriver
Ross noted that she had won a significant amount of money at the McPhillips Station Casino in the city of Winnipeg (Manitoba). The Canadian woman celebrated the gambling winnings with her buddies, after which she took a cab home. However, Ross left her
Guess
wallet on the backseat of the taxi. "Hold faithfulness and sincerity as first principles", Gill told one of his children as a wise lesson, which he had previously proved in practice.