Canadian buddies one number short of winning $34 million jackpot
22-08-2016
Meet Aaron Bennett and Billy Earle, two ordinary guys who like to buy lotto tickets. The two friends nearly became financially independent, but Lady Luck wasn't on their side. Rather than
collecting a stunning $34 million windfall
, Bennett and Earle share a $5,116.50 windfall.
One number short of winning $34 million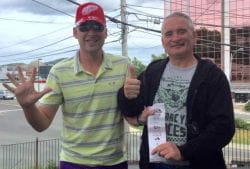 The two friends from the city of St. John's (Newfoundland and Labrador) often chip in money to buy lotto tickets. That habit almost
netted them a multimillion jackpot
, but their 'lucky' ticket missed one number. Bennett and Earle were in disbelief when the first six numbers lined up, but they had a rude awakening when the seventh one didn't match up. However,
there's nothing wrong with a $5,116.50 windfall.
Familiar with disappointments
It's not the first time that Earle experienced such frustrating feeling. Together with another buddy, he purchased lotto entries for nearly half a decade. A couple of years ago, one of those tickets hit a
$6 million jackpot
, but the two friends lost the winning one. Needless to say that they were devastated, but it never kept Earle from buying Lotto Max tickets.