British lottery winner enjoying his £1 million jackpot
06-09-2013
Many people wonder what life would be after winning a staggering cash prize. Meet John Baxter who scooped a
£1 million jackpot
only seven months ago. The 64-year-old jackpot winner has donated money to good causes, while also providing friends and relatives with financial support. Additionally, the winnings have enabled Baxter and his wife Carol to enjoy various vacations.
Great feeling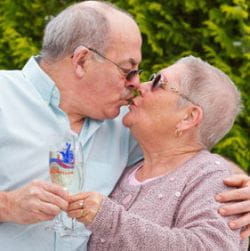 "The EuroMillions jackpot has added a massive boost to our financial situation. We don't have to worry anymore about bills, while we can enjoy more time with friends and family. It's a wonderful feeling to help other people and to donate money to charities," the father-of-three commented. So it look likes winning a massive cash prize definitely makes you more happy.
Sleepless nights
"We found it hard to believe that we had won so much money. But after receiving the huge check, it dawned on us. At first, winning the £1 million jackpot made it difficult to get a good night's sleep. We were too excited and overwhelmed by the impact of the
EuroMillions cash prize
," Baxter said.
Difficult to quit
The Baldock resident decided to quit his job four weeks after claiming the life-changing jackpot. "It enabled me to retire one year earlier than I had planned. I worked at
Luton Airport
's technical services department for more than 15 years. Honestly, I loved my job at the airport and it wasn't easy to resign," the 64-year-old EuroMillions winner added.