British gambler collects £34 million lottery windfall
19-09-2016
The owner of a winning EuroMillions ticket has claimed his or her
£34 million jackpot
, according to the National Lottery. Rumors have emerged that the fortunate punter lives in North West England, most likely in Liverpool. Some speculators claim that a group of ten taxi drivers from Liverpool holds the £34 million ticket.
No details available yet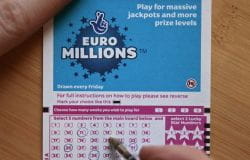 A spokesperson for the National Lottery revealed that the
life-changing windfall
could be awarded today. The operator of the EuroMillions game is obliged to wait until the owner of the lucky ticket decides to unveil his or her identity. For that reason, it remains unclear if an individual player or a lottery group has won the
£34 million EuroMillions jackpot
. This also applies to details about the retailer that sold the winning ticket.
Lady Luck loves North West England
Staggering lottery wins are certainly not rare in North West England. Three months ago, a group of twelve bakers at a Tesco-based supermarket scooped a
£1 million lotto jackpot
. One of the syndicate members is a Wirral resident, while another fortunate associate lives in Ellesmere Port. Additionally, John Gill from Warrington landed a £1 million jackpot thanks to a
winning EuroMillions ticket
at the start of this year. In addition to the stunning cash prize, the lucky Warrington resident won an unforgettable trip to the Northern Lights.