Blackjack player scoops $483K payout
16-09-2016
Women like shopping, men don't. Harris Cohen definitely agrees as he prefers to enjoy his favorite casino games rather than strolling through a shopping mall. The Philadelphia resident decided to play blackjack whilst his spouse visited the King of Prussia Mall. That decision certainly paid off as Cohen
took home a staggering $483,533 cash prize
.
Gratifying decision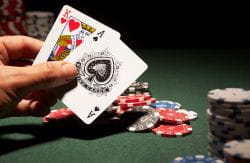 Cohen started playing blackjack at the Valley Forge Casino Resort, and he benefitted from the super 4 progressive jackpot. That extremely rewarding side bet netted him a dazzling
$483,533 in cash
. Cohen noted that he also loves to play
craps
, although the dice game differs a lot from his other favorite casino game,
blackjack
. Cohen told he doesn't have any immediate plans to spend the money, though his wife can always use some extra cash to hit the mall.
Best of both worlds
Blackjack is without a doubt one of the most popular casino games, both at land-based gambling venues and online. An increasing number of gaming sites feature a
live casino
, which combines the best of both worlds. Needless to say that
live online blackjack
enjoys a high degree of popularity among gamblers.
Royal Panda
's live casino offers four exciting blackjack titles, including:
Blackjack Party
Live Blackjack
Royal Panda Live Blackjack VIP
Royal Panda Live Blackjack