$9.4 million jackpot winner shows good work ethic
08-09-2016
Most multimillion jackpot winners can't wait to collect their fortune, while others prefer to finish their job duties first. Eric Tackett definitely belongs to the latter group as the truck driver dropped off his load
before claiming his $9.4 million bonanza
. That's what they call 'a good work ethic'.
No early retirement despite multimillion jackpot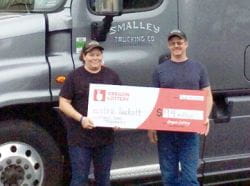 Tackett bought the $5 Megabucks ticket at a Coburg-based truck stop, read a statement from the Oregon Lottery. All numbers on Tackett's
lucky Megabucks ticket
came up in the lottery draw that took place on 31 August. He has decided to take the cash value of the annuity prize and will receive a
one-time payment of nearly $3 million
after taxes.
$94,000 bonus
The Oregon Lottery will award the
TravelCenters of America (TA)
branch a selling bonus check for $94,000. His spouse Beth frequently accompanies Tackett, who works for a Sutherlin-based trucking company. The
new millionaire
has been driving a truck since 1999, and he isn't planning to hand in notice at work.