$30,000 scratch card fortune after stop at gas station
01-09-2016
Some impulse purchases turn out extremely well as Maureen Maher certainly found out when she
pocketed a $30,000 bonanza
. Together with her partner she was heading to a birthday party, when the East Haven (Connecticut) couple stopped at a gas station. It turned out to be a rather gratifying stop.
$30,000 impulse purchase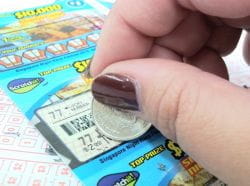 Maher seized the opportunity to purchase a scratch ticket, whilst her husband was filling up the gas tank. After revealing the first line, he told Maher to scratch the other opaque areas. That gamble definitely paid off as
Lady Luck was on her side
. Maher and her husband were pleasantly surprised when they discovered the $30,000 payout. "I was in disbelief, and we could not believe it", the East Haven resident commented.
Garden renovation
Before collecting their $30,000 bonanza, the couple stored the
lucky scratcher
in a safe. In the meantime, Maher and her husband have claimed the scratch card jackpot at the Connecticut Lottery office. The couple plans to use the fortune to renovate their garden, while the Connecticut Lottery will award the gas station a selling
bonus check for $300
.