$2.85 million anti-climax for Australian lottery player
13-05-2016
A group of 14 factory workers from Sydney recently landed a $40 million lottery windfall. So far so good you may think, but one of the syndicate members has been brought down to earth with a shock. Apparently, t
he gentleman in question can kiss his $2.85 million chunk goodbye
as he allegedly failed to pay his share of the winning ticket.
Betrayed by colleagues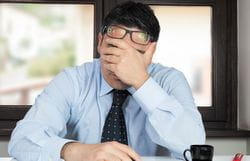 The 'defaulter' was excluded from the lottery syndicate, and he has engaged a lawyer in an attempt to claim his
part of the Powerball jackpot
. "I just can't believe that people I have worked with for many years are capable of something so unfair", stated the man, who did not wish to be named.
Winnings to be frozen
His attorney declared that the excluded syndicate member had chipped in for the winning lottery entry. The man who bought the lucky Powerball ticket on behalf of the group however, claims that the colleague in question didn't pay his share. It may be possible that the
$40 million jackpot
will be frozen pending further clarification. A solution is required before May 19 as the windfall will be paid out that date.