Underground gambling busts in Peach County
08-05-2015
Police have raided eight locations across Peach County where clandestine gambling occurred. Agents arrested eight people at locations in the villages of Byron and Roberta. Two suspects decided to
turn themselves in
, while six other have already appeared in court. Approximately 40 individuals attended the first court hearing.
Gambling-related charges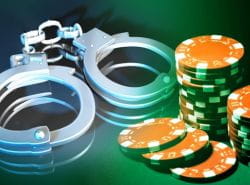 A spokesperson for the Peach County Sheriff's Department confirmed that the properties in question offered unauthorized gambling. All suspects face
gambling-related charges
, in addition to organized-crime charges. One of the defendants, Leonardo Rimando, is also accused of operating an illegal gambling parlor. Ronald Bartlett, Lee Bartlett, Rimando, Michael Durham, Andy Kim, and Kiran Patel were bailed for $50,000.
Desperate after job loss
All eight businesses have been shut down, leaving many unemployed. Bonnie Crotty is one of them, and she feels desperate. "I have no idea what to do after police closed the place", Crotty noted. "Many hard-working people have lost their jobs, and we all are sitting with our hands in our pockets. Nobody likes to apply for
food stamps
and unemployment benefits, we just want our jobs back."