Ten people arrested in Georgia in connection with illegal gambling
29-10-2015
Gaming machines that pay out store credits are legal in the state of Georgia. However, authorities are facing an increase of slot machines that
allow players to win cash prizes
. Ten suspects have been arrested during several raids across the state.
Both legal and illegal gaming machines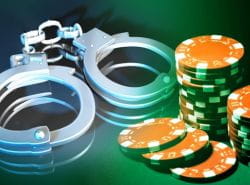 Police raided fifteen locations, including multiple stores, pool parlors, and one house. Sandip Patel is one of the suspects who was arrested. The 40-year-old entrepreneur holds a license from the
Georgia Lottery
to operate hundreds of gaming machines. However, Patel also offered machines that paid out real money prizes.
Black-market gambling-related charges
Authorities allege that the 40-year-old businessman cooperated with an unidentified man. Patel declined to make statement, while a police spokesperson noted that more arrests were expected. At this stage it's unclear what charges the suspects face, but it's likely that they relate to facilitating
black-market gambling
operations.