Mount Laurel gambling addict faces prison sentence
29-09-2016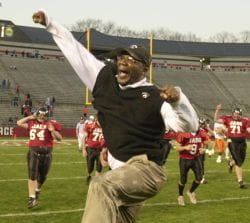 A gambling addict from Mount Laurel (New Jersey) has been sentenced to prison after a $14,500 embezzlement. Reginald Lawrence has a
weak spot for games of chance
, but things spiraled out of control as he stole student fees to enjoy his beloved pastime.
Arrested for stealing student fees
47-year-old Lawrence has been found guilty of theft, resulting in a 364-day jail term. Police took the Mount Laurel resident into custody in mid-April this year, after the
gambling-inspired embezzlement
came to light. Lawrence, who has worked at several schools across New Jersey, has also been ordered to undergo treatment for his gambling addiction.
Banned from public sector
The pathological gambler was employed as a football coach at
Willingboro High School
, where he had access to the college fees. Lawrence
misused his position and stole
nearly $14,500 in money paid by students. The man from Mount Laurel has been banned from working in the public sector thanks to the theft case, according to court records. At this stage it's unclear if Lawrence has to repay the stolen funds, while it's also unclear what his favorite games of chance are.