Malaysian police conduct 42 gambling raids
10-10-2016
Black-market gambling remains a big problem in Malaysia. Last week, police conducted 42 gambling raids at multiple locations in the state of Sarawak.
84 people were placed into custody
on suspicion of various illegal gambling-related offenses.
Highest number of gambling raids in a single week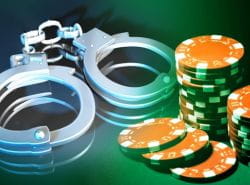 A spokesperson for the Malaysian Commercial Crime Investigation Department said the raids included three main categories:
Among those arrested were 10 non-Malaysian residents between the ages of 17 and 54. It is the first time so far in 2016 that authorities have executed so many
gambling raids
in the space of seven days.
Commitment to wipe out illegal gambling
A total of RM15,801 in betting money was also seized, in addition to a
huge number of gambling paraphernalia
. "We are determined to root out all forms of clandestine gambling in Sarawak, and therefore we will continue to conduct
raids on operators of black-market games of chance
. Everyone involved in illegal gambling practices faces prison terms and fines", the spokesperson for the
Commercial Crime Investigation Department
added.