Malaysian cops arrested for gambling in broad daylight
13-10-2016
Malaysians like to drink 'kratom' and enjoy food at street stalls, while they also love their gambling. However, you wouldn't expect to see
police officers enjoying those things
. Eight Sungai Way cops thought otherwise, and now they have to live with the consequences.
Policeman at large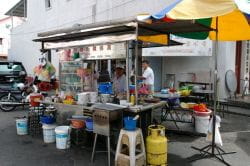 They were caught red-handed at a Subang Jaya-based food booth, according to local media. It is not known at this stage what type of game they were playing, but the policemen in question reportedly
visited the spot on a regular basis
. They were arrested, but one of them succeeded in escaping from the police jail.
Warning ignored
Another police officer had previously spotted them playing games of chance, and told them that he would arrest them if they would continue to gamble in public. However, the
gambling cops
ignored the warning, and they now have to pay the price. The police officer who managed to escape remains at large, while two other suspects were also arrested during the raid. It is believed that they are acquaintances with the policemen.