Gambling tattoos: Snake eyes observe craps player
17-09-2016
Big brother is watching you, or is it a snake? This week's gambling enthusiast was enjoying his favorite dice game, when a snake or crocodile kept a close eye on him. That can only mean one thing:
This guy loves reptiles and craps
. An unusual combination, but certainly one to remember.
Impressive piece of body art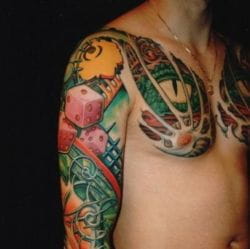 The enormous reptile eyes add a cool twist to his chest, and some people may find them a bit daunting. Additionally, the
tattoo sleeve
that covers his entire right arm definitely looks good on him. The fine piece of body art features three
craps
dices, while it's rather difficult to decode the other elements. This gambling-themed creation makes quite an impression, and maybe the gambler in question needs somebody to monitor his
weak spot for craps
.
Monstrous online casino games
Gambling fans who are into snakes and other reptiles should certainly try these exciting games at
Royal Panda
:
Snake slot
Big Kahuna - Snakes & Ladders
The Snake Charmer
Those who like monstrous reptiles may want to spin the reels of these
online slots
:
Creature from the Black Lagoon
Dragon Dance
Dragon's Myth
Dragon Island