Gambling tattoos: Sagger shows his lifelike creation
08-10-2016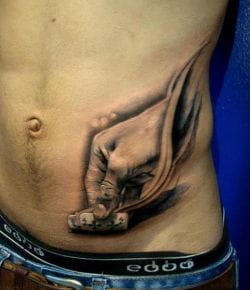 Are you familiar with the fashion phenomenon called 'sagging'? This week's gambler is one of those people who expose their underwear
without any embarrassment whatsoever
. The 'sagger' in question also has a weak spot for card games, which he immortalized as a tattoo.
Time to hit the gym
The first thing you notice about this fine piece of body art is its lifelikeness. The tattoo artist in question did quite an amazing job and the very detailed creation features a hand that unveils the cards. In addition to the
tattoo's hyper-realistic nature
, the size also adds up to the impressive appearance. The gambler in question may want to hit the gym in order to make his stomach muscles stronger as a cool tattoo deserves a
sexy belly
.
Lots of online card games available
It's unclear what kind of card games he likes to play, but maybe he can use his winnings to buy a gym membership. Poker is definitely the world's most popular card game, followed by
blackjack
and
baccarat
. Online casinos offer a plethora of card games, with the same applying for
live online casinos
.
Royal Panda
's live casino for example features 16 exciting titles, including blackjack, poker and baccarat titles.