Gambling tattoos: Lifelike roulette masterpiece
17-10-2015
Tattoos have become extremely popular, including gambling-themed masterpieces. Given the fact that roulette is one of the most popular casino games, it doesn't come as a surprise that there are lots of
cool roulette tattoos
out there.
Roulette art on your body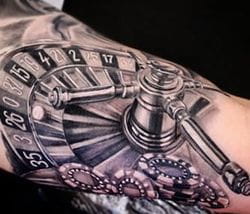 In the past, tattoos were considered vulgar, but nowadays they are a cool feature.
Roulette
is one of the first things that come to mind when thinking about gambling. An increasing number of roulette fans decide to honor their beloved pastime with a tattoo. This week's lifelike piece of art is definitely one to consider if you're thinking about a gambling tattoo.
Sophisticated design
The gambling enthusiast in question decided to decorate his upper-arm with a roulette wheel, including some chips. Besides the size, the detailed design results in a striking tattoo that certainly attracts plenty of attention. Indeed, some roulette fans may want to touch his arm to check if it's a real roulette wheel. By the way, if you are into gambling and tattoos, head to
Royal Panda
for the fun Hot Ink slot.