Gambling tattoos: Lady luck disguised as one-armed bandit
14-05-2016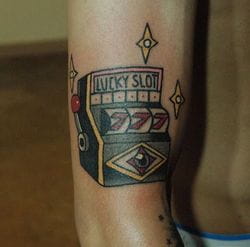 Most gamblers are superstitious when it comes to their beloved pastime, while others believe that
one specific slot machine brings good luck
. This week's gambling fan is convinced that one of his favorite one-armed bandits is actually lady luck herself. That seems a bit weird, or could it be true?
Slot machine that brings good luck
The inked masterpiece features a
simple but cute one-armed bandit
, surrounded by three stars. Seven is considered a lucky number, and if three of them appear on the reels it means you have won a significant amount of cash (if you're playing for real money of course). This week's gambler named the one-armed 'Lucky Slot', which says it all.
Unanswered questions
Another explication would be that the
gambling enthusiast scooped a dazzling jackpot
whilst spinning the reels of a
slot machine
. It made him decide to honor that life-changing event with a cool tattoo. Or maybe he felt that his upper arm needed some decoration, inspired by his favorite type of gambling. We'll probably never know for sure, but his gambling tattoo is definitely a fabulous addition to his arm.