Extensive black-market gambling bust in Fresno
16-07-2015
Gambling enthusiasts in Fresno who like to play illegal card and lottery games have less options to choose from. The fact is that local police have raided eight establishments that allowed people to enjoy several games of chance
without the appropriate license
.
Fake businesses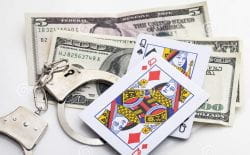 The establishments advertised themselves as offering normal services, but they were actually fronts for
illegal gambling
. Police believe that each business generated about $7,500 a day. Customers could participate in lottery games with favorable chances of winning.
Lots of customers
Undercover agents visited the locations after receiving information about the illegal gambling activities. Neighbors became suspicious as a great number of people visited the businesses every day. One of the customers informed the police after the business in question had
failed to award the amount she had won
.
Illegal gamblers not charged
Police detained eleven suspects, while all players got off scot-free. "We focus on those who operate the
illegal gambling dens
", a spokesperson for the police noted. He didn't reveal the amount of money they recovered from the businesses. Police believe that all establishments had been offering their clandestine gambling services for approximately twelve months.