Celebrities with a gambling problem: Charlie Sheen
07-12-2013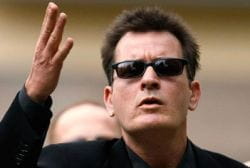 Charlie Sheen used to spend large sums of money at casinos, while he also loved to bet on sports events. His passion for gambling was one of many addictions, varying from drugs, alcohol and sex. It appears that Sheen has quit gambling and betting, but you can never trust an addict.
Two and a Half Men star
The American bad boy starred in several television series and movies, but he is best known for his starring role in the hit TV series Two and a Half Men. Three years ago, Sheen was the highest paid American actor, pocketing
$1.8 million per episode
of Two and a Half Men. In March 2011, Warner Bros Television fired him after a number of controversial interviews.
One addiction overcome
His detractors claim that Sheen became addicted to gambling in his youth. In 2006, his ex-spouse Denise Richards revealed Sheen's out-of-control gambling. She claimed that he blew nearly
$200,000 a week
on both
sports betting
and casino gambling. Early 2011, Sheen confirmed that his gambling days were over. That's one addiction less, but he has not given up on cocaine and alcoholic beverages.