$4 million birthday present thanks to scratchers
27-10-2014
We all like birthday presents, but how about a
$4 million gift
? That's exactly what Deisi Ocampo got for her 19th birthday. The Chicago resident received two scratch cards from her father, and one of them turned out to be an extremely lucky one. Ocampo has become an instant multimillionaire after cashing a whopping $4 million.
Unforgettable birthday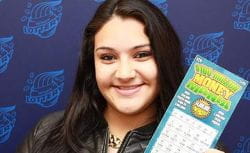 Needless to say that her 19th birthday will be one to remember. Asked how she plans on spending the money, Ocampo without hesitation replied that she would use it to finance her
nursing college
. Additionally, the 19-year-old millionaire will purchase a new home for her family.
Teenage millionaires
In 2013, the
EuroMillions lottery
awarded a $35 million check to an 18-year-old Britton. Back in 2002, another British teenager took home $16 million in cash courtesy of a winning lottery ticket. The winner in question, Michael Carroll from Norfolk, blew his all his winnings on parties, properties, drugs, presents, and jewelry.