Underground gambling den raided in Cameron County
04-06-2015
Cameron County authorities have raided another black-market gambling den. The mini-casino was located in a rundown property located outside the city of Brownsville. Police officers recovered
25 clandestine gambling machines
, but nobody was arrested.
Tip-off
Authorities believe that nearly ten individuals had been spinning the reels of the clandestine slots prior to the raid. Agents with the Cameron County Sheriff's Office barged into the house after they had received information about alleged
illegal gambling at the premises
.
1,200 slots seized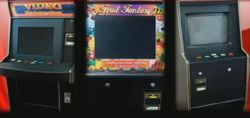 Patrons could play popular titles, including Money to Burn and Pot-O-Gold. Those machines are illegal in Texas as they allow players to win cash prizes worth more than $5. Cameron County authorities have carried out more than
45 underground gambling raids
in the last two years. Nearly 1,200 slot machines and 1,500 computers have been recovered during those operations.
Shift to rural areas
"Initially, illegal gambling dens didn't do much to hide their activities. They became more careful after we started the crackdown. We have raided multiple warehouses, but it seems they now use rundown homes in rural areas to offer
illegal gambling
", a spokesperson for the Cameron County Sheriff's Office stated.