Two casino players robbed and assaulted in Bethlehem
17-09-2014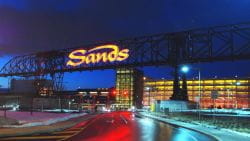 Two casino players have been robbed at the parking lot of a casino in Bethlehem, Pennsylvania. A duo stole ten iPhones of the gamblers. Bethlehem Police have arrested Asharif Tansmore, who was reportedly involved in the
brutal robbery
. The other suspect, Khalfani A. Lassiter, remains on the run.
Fatal attempt to escape
The
cruel robbery
occurred at Sands Casino's parking lot, according to Bethlehem Police. Tansmore tried to avoid arrest, but a car hit the fleeing robber. The 36-year-old faces felony charges for crimes related to robbery, and he is being held in Northampton County Prison.
Illegal iPhones
Police investigation revealed that the two casino players were selling
iPhones
at the casino parking lot. However, the two buyers became aggressive and attacked the duo. The two suspects managed to steal the cellphones, according to the report. Bethlehem Police are appealing to the public to help them locate the other robber.