Three roulette scammers charged with fraud
14-07-2016
Three men collected a whopping $50,000 in 'winnings' thanks to a fraud scheme at the Horseshoe Casino. The trio included
two former employees at the Council Bluffs-based gambling establishment
. They have been charged with fraud, according to local media.
Fraudulent roulette winnings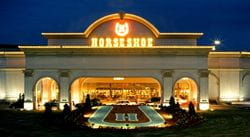 One of the scammers used to work as a supervisor at the Horseshoe Casino, while another one was employed as a roulette croupier. The other conman used to play at the gambling venue, and they reportedly shared the
fraudulent winnings
. The scam occurred at least five times in the first quarter of this year, and included wins of $20,000 and $30,000.
Suspicious activities
The
crooked roulette croupier
allowed his partner in crime to past post, while the pit boss turned a blind eye. Another gambler discovered the suspicious behavior, and informed casino management about the strange activities. The Horseshoe Casino launched an investigation, including examination of CCTV footage. Police arrested 28-year-old Jonathan Rumery, 24-year-old Jonathan Waugh, and 28-year-old Cody Schroeder in connection with the
roulette scam
.