The world's most famous casinos: Tusk Rio Casino Resort
04-04-2015
Gambling enthusiasts who visit Klerksdorp (South Africa) may want to take a look at the Tusk Rio Casino Resort. This lavish gambling complex features lots of
Brazilian elements
, combined with casino entertainment. It's only a two-hour drive from South Africa's largest city, Johannesburg.
Lots of gambling fun in South Africa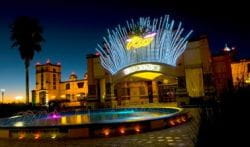 The Tusk Rio Casino Resort is without a doubt one of South Africa's most visited gambling parlors. There are about 35 cities that offer casinos, while the 'Rainbow nation' boasts approximately 48 licensed gambling establishments. Johannesburg features five casinos packed with table games,
slots
and video poker machines.
Poker entertainment
Gamblers can choose from 274 slot machines at the Tusk Rio Casino Resort. Additionally, the vibrant gambling resort offers 13 gambling gables loaded with poker and
blackjack
. The Tusk Rio Casino Resort also features an area for high-rollers, while the loyalty scheme adds a rewarding twist to casino gambling. Poker fans can join an entertaining poker event every Sunday.