The world's most famous casinos: Trump Plaza Hotel Casino
06-12-2014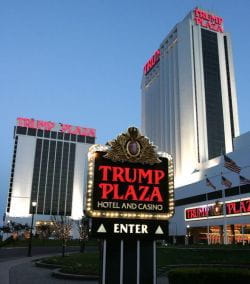 Trump Plaza Hotel Casino was one of the notable gambling venues in Atlantic City. The casino featured
more than 1,600 slot machines
, in addition to 105 gambling tables. After three casinos in Atlantic City had already closed, Trump Plaza Hotel Casino was the fourth one in September 2014.
Wealth of exciting casino games
The stylish casino offered all classic games, like
blackjack
,
craps
, roulette and
baccarat
. Gambling fans could also opt for several exotic games, including
pai gow poker
or tiles. With over 1,600
slot machines
, Trump Plaza Hotel Casino had something for everyone's taste. Among the electronic gambling machines were more than 100 innovative slots.
Upscale and casual restaurants
Besides gambling, visitors could enjoy several restaurants and bars, while the hotel included
728 rooms
. The casino resort boasted two upscale restaurants, namely Max's Steakhouse and Roberto's Ristorante. For a more casual setting, visitors could choose from 24 Central Café, China Café, Evo, Liquid Bar, Rainforest Café, and Sarah's Cookies.