The world's most famous casinos: City of Dreams Resort
09-05-2015
If you like to gamble in a podium-styled casino you may want to take a look at the City of Dreams Resort. This Macau-based gambling complex occupies an
area of 420,000 square feet
, and features four impressive towers: Hard Rock Hotel, Crown Towers Hotel, and two Grand Hyatt Macau towers.
Other forms of entertainment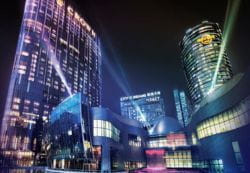 Besides gambling, visitors can enjoy lots of shopping fun, in addition to the so-called 'Vquarium'. This impressive construction includes four huge video walls, and it's definitely one of the main attractions. The City of Dreams Resort also houses a bubble fountain, and a
dancing water theatre
. On top of all that, the two hotel towers offer 1,400 rooms and suites.
Two exciting floors loaded with gambling
The City of Dreams Casino is located on the first floor, and boasts an extensive array of exciting games. Players who like table games can choose from 270 tables, while there are more than 1,500 slot machines available. On the second floor you will find the Hard Rock Gaming Area packed with 193 gambling machines. Almost needless to say that this area is all about
rock and roll
and gambling, which is a rather cool combination.