The world's most famous casinos: Casino Ponte 16
11-04-2015
Macau's old town not only features an impressive ferry terminal, but also an outstanding casino complex. Take a look at Casino Ponte 16 if you like to gamble in style. The casino resort features a five-star hotel, and a 270,000 square feet gambling floor packed with
109 gaming tables.
Wealthy casino repertoire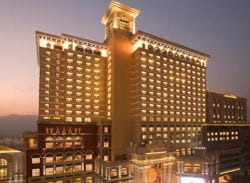 Casino Ponte 16 also consists of two VIP areas, in addition to a whopping 307 slot machines. Gambling enthusiasts can choose from lots of casino games, including:
The king of pop in Macau
Besides an entertaining gambling repertoire, Casino Ponte 16 is also home to 'the king of pop'.
Michael Jackson
fans will definitely enjoy the memorable gallery packed with unique items. The only Michael Jackson gallery in Asia features more than 40 iconic items, which add to the broad range of excitement at Casino Ponte 16.