The ten most popular casino games: Baccarat
30-05-2015
Baccarat is one of the oldest casino games in the world, and remains very popular among gambling enthusiasts.
One of the most famous baccarat players, James Bond
, seems to prefer the chemin de fer version. Punto banco and baccarat banque are two other popular baccarat variants.
Italian roots
Gambling experts believe that baccarat was born in Italy as the word means 'zero' in Italian. That makes sense because all jacks, tens, kings, and queens are worth zero points. Additionally, the term 'baccarat' is also used for a hand that totals zero. The game became popular in European gambling establishments in the 1900's, especially the
French upper class
massively embraced baccarat.
Three main versions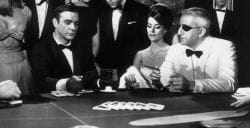 As mentioned before, chiming de fer, baccarat banquet and punto banco are the three most played versions. There are no main differences between those three variants, besides the card dealing method. In American gambling parlors the most popular
baccarat
variant is punto banco where competitors wager on any of the three results.
Popular trio of baccarat games
Many online casinos offer several baccarat titles, such as:
Punto Banco Professional Series
Baccarat Professional Series
Royal Panda
is a reputable online gambling site with an impressive array of casino games, including the trio of baccarat games mentioned above.