The ten most popular casino games: Keno
13-06-2015
Gambling experts believe that keno is one of the oldest gambling games. Just like many other games, keno has
Chinese roots
. It's all about cards that feature up to 80 numbers, and players pay for the quantity of selected numbers.
Numbers drawn
Chinese immigrants premiered the game in the US back in the 19th century.
Keno
subsequently developed spectacularly in casino's all over the world. It is themed around the numbers drawn by the keno machine. The online equivalent invites players to select numbers by clicking them.
Progressive jackpot included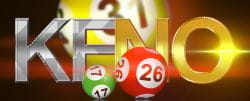 Bonus Keno is one of many online keno hits, which can be played at
Royal Panda
. This online keno game features a progressive jackpot, which adds a rewarding twist to the lottery-like excitement. The rewarding bonus rounds are another reason why Bonus Keno is a frequently played game at online gambling sites.
Massive keno bonanza
Speaking of keno winnings, how about a
$6.4 million jackpot
? That's exactly the amount won by a keno player at a Las Vegas-based gambling parlor. The fortunate casino patron in question, identified only as 'Eddie', was enjoying a game of keno when he hit the progressive jackpot. The life-changing event occurred at the Sam's Town casino.