Stark County trio operated underground gambling businesses
09-04-2014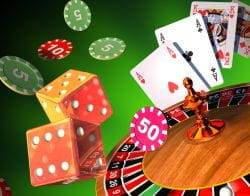 Three Stark County residents have been accused of operating underground casinos, in addition to money laundering. Authorities plan to seize nearly
$1.3 million in cash
, plus several luxury cars, including a Jaguar and Porsche Boxster. All suspects are Canton residents, according to court documents.
$2,000 a day
The group ran the clandestine casinos from 2008 through 2013. Visitors could choose from about 200 gambling machines, including Pharaoh's Fortune, Treasure Diver, and Enchanted Kingdom. On a typically day, the
illegal gambling venues
could easily rake in $2,000 each, according to police reports.
Hell to pay
U.S. Attorney Steven M. Dettelbach stated: "The three defendants operated clandestine gambling parlors in Canton, and each of them featured approximately
200 slot games
. They have run out of luck, and now they have to face the consequences of their actions."